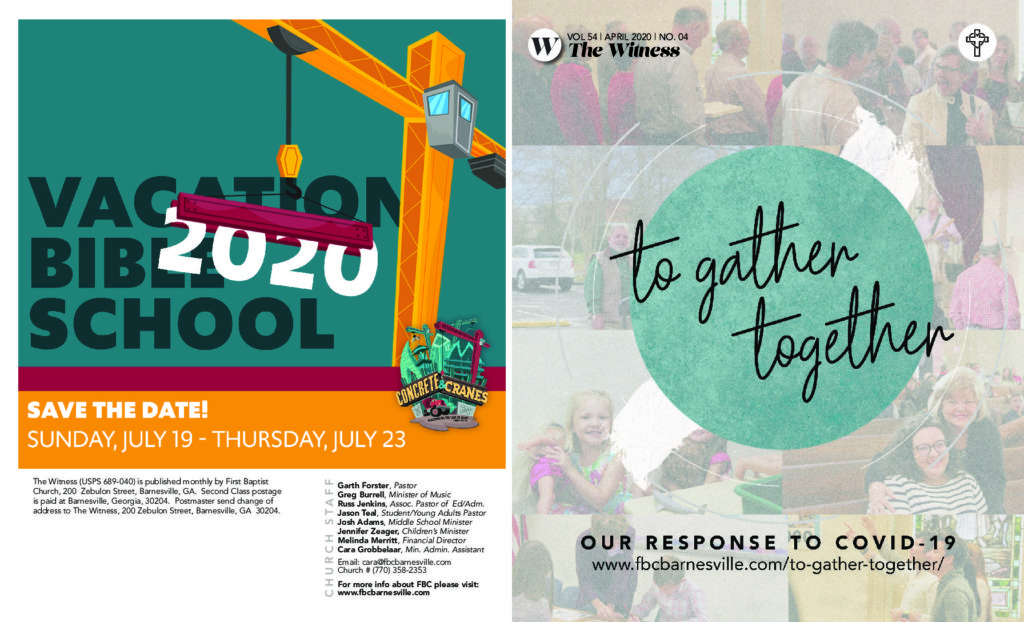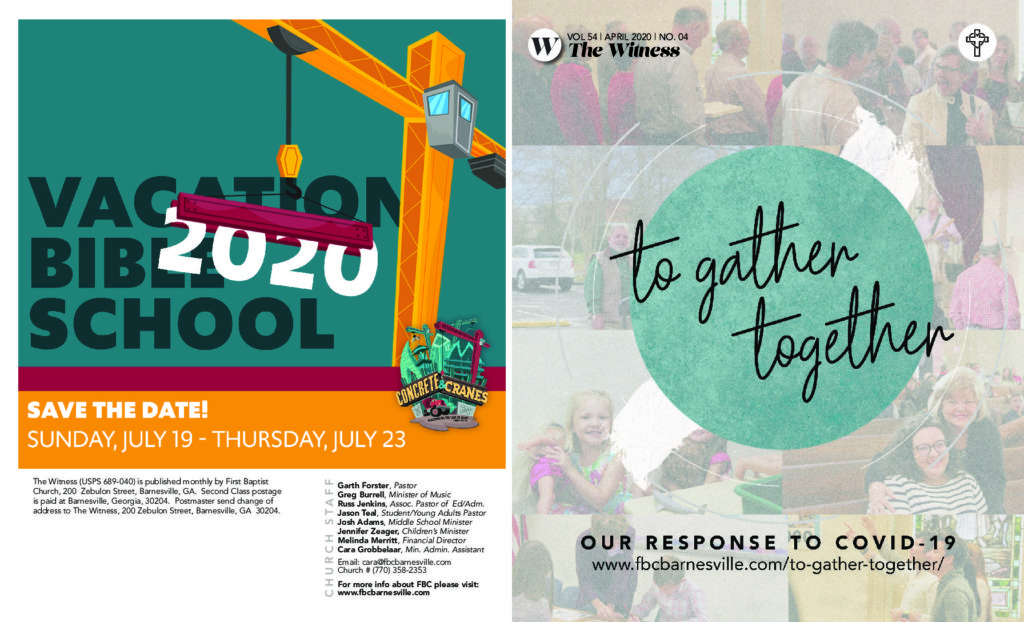 A man was walking along the street one day when he saw a black cat crossing the road. He thought to himself that he was going to have bad luck that day. Worried about seeing the black cat, he asked his friend what was going to happen to him. His friend replied, "That will depend on whether you are a rat or not." In the same way, knowing who we are in Christ will conquer fear in our lives!
The COVID-19 pandemic has impacted and altered every aspect of our society, including our churches. Locally, it began to turn our world upside down about the middle of March. Sunday, March 22nd, was our first live-streamed service for the primary purpose of offering our church family the opportunity to worship with us by way of our website (www.fbcbarnesville.com), Facebook, or our FBC app. The week before that, we began our efforts to stay connected with our people through postings on various channels of social media. Those who do not have the devices that give them access to those channels can receive a free weekly DVD of our Sunday morning services and Sunday School lessons. Simply call the church office and make that request.
Everything we are doing during this time of crisis falls under the title of TO GATHER TOGETHER. I want to thank our church staff for their tireless efforts in working to stay connected to our people, as well as ministering to others in our community during this stressful time. We are committed to observing Georgia Governor Brian Kemp's order of not having more than ten people in a worship/teaching/fellowship space at any time. That, of course, means that we are having to do ministry differently than we have ever done it before!
Everything from weddings to funerals to Easter Sunday services are likely to be impacted by this crisis. At this writing, there are only two events that we are relatively sure will happen. Our MISSION TRIP to Cowley, Wyoming, is scheduled for July 18th – 24th. We still have 8 seats open for this trip. VACATION BIBLE SCHOOL is that same week of July 19th-23rd. At this point, we cannot predict whether events that have been scheduled for the months of April and May will be able to take place.
Besides the live-streamed worship service Sunday at 11:00 A.M., I am also live-streaming my Wednesday Night Bible Study at 6:30 P.M. We will also post a series of inspirational devotions called "The Seven Last Words of Christ from the Cross" each of the seven days starting on Palm Sunday (April 5th) and going through Saturday, April 11th. In addition, our other staff members are streaming and/or posting studies and worship services for their ministries.
Allow me to say a quick word about giving. Our church staff is still working full time, and our salaries make up about half of our church budget. Therefore, your regular giving is vital to the continued ministries of our church. You may continue to give online, by bank draft, through the mail or by bringing your tithes and offerings to the church. We ask that if you are bringing your offering to the church, that you call and let us know that you are stopping by. Simply ring the door bell and we will meet you at the door and maintain the 6ft recommended distance. Thank you for your continued support of our church!
Should you need any of our staff, I have posted our numbers below:
Garth Forster (770) 584-2051 Greg Burrell (770) 584-3297
Russ Jenkins (478) 365-8719 Jason Teal (912) 978-1449
Jennifer Zeager (770) 843-3852 Church Office (770) 358-2353
April is going to be a DIFFERENT month, but don't fear! Worship with us VIRTUALLY!!
I Love You, Garth
---