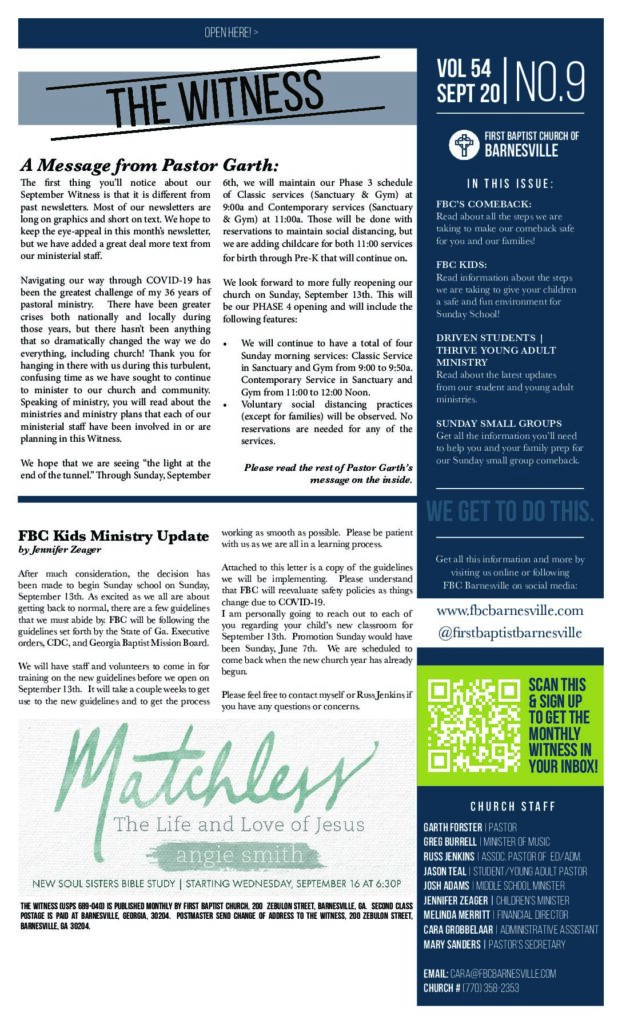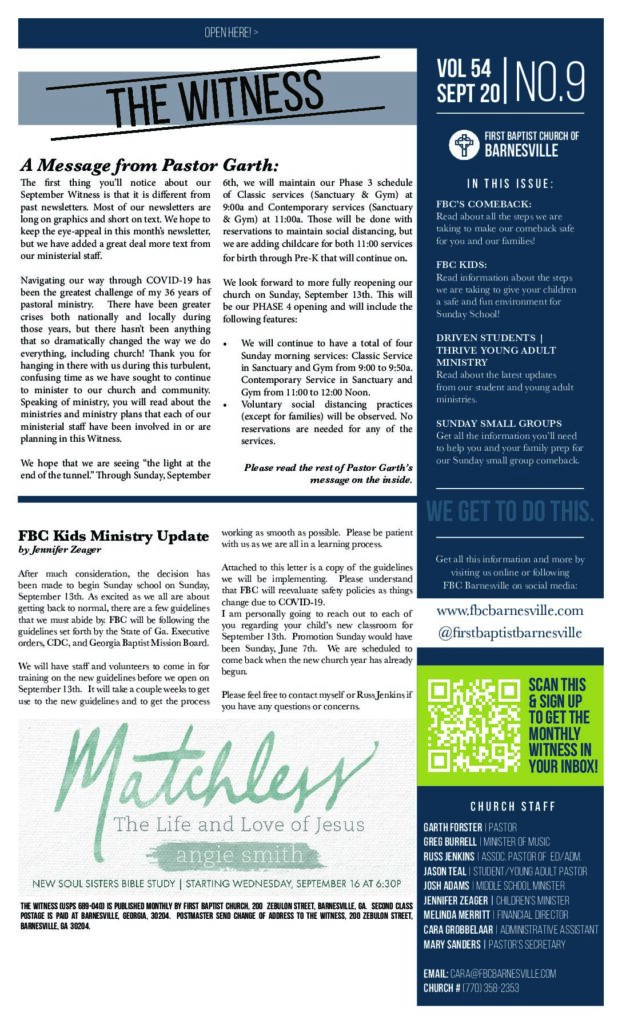 The first thing you'll notice about our September Witness is that it is different from past newsletters. Most of our newsletters are long on graphics and short on text. We hope to keep the eye-appeal in this month's newsletter, but we have added a great deal more text from our ministerial staff.
Navigating our way through COVID-19 has been the greatest challenge of my 36 years of pastoral ministry. There have been greater crisises both nationally and locally during those years, but there hasn't been anything that so dramatically changed the way we do everything, including church! Thank you for hanging in there with us during this turbulent, confusing time as we have sought to continue to minister to our church and community. Speaking of ministry, you will read about the ministries and ministry plans that each of our ministerial staff have been involved in or are planning in this Witness.
We hope that we are seeing "the light at the end of the tunnel." Through Sunday, September 6th, we will maintain our Phase 3 schedule of Classic services (Sanctuary & Gym) at 9:00 A.M. and Contemporary services (Sanctuary & Gym) at 11:00 A.M. Those will be done with reservations to maintain social distancing, but we are adding childcare for both 11:00 services for birth through Pre-K that will continue on.
We look forward to more fully reopening our church on Sunday, September 13th. This will be our PHASE 4 opening and will include the following features:
We will continue to have a total of four Sunday morning services: Classic Service in Sanctuary and Gym from 9:00 to 9:50 A.M. Contemporary Service in Sanctuary and Gym from 11:00 to 12:00 Noon.
Voluntary social distancing practices (except for families) will be observed. No reservations are needed for any of the services.
Only main building doors will be left open from the outside. Temperatures will be checked at these doors with modern devices. Ushers will be available to help in seating you, but there will not be assigned seats. Caution tape will mark off pews not to be used in the Sanctuary.
Everyone is strongly encouraged to wear a mask since contact will be closer in Phase 4. But, knowing that not everyone will wear a mask, a "masked section" separated from the unmasked section will be available in all services.
Sunday School for all ages is planned for 10:00 to 10:50 A.M. Since not all classes or all teachers will feel safe being together in a classroom, some classes will combine with other classes as space permits.
Restrooms will be open throughout our buildings. Please limit the number of people in our restrooms to three at one time.
Offering plates will be available in both the Sanctuary and the Gym.
Church furniture will be sanitized between services. Hand sanitizer stations will be available at the entrance/exit doors of our facilities.
Everyone is advised to use their own discretion in deciding when to come back to church.
We are also planning a PARTIAL WEDNESDAY NIGHT ACTIVITY reopening on September 16th. This will include activities and studies for all ages that normally meet at 6:30 P.M.. We're hoping that September will be a turn-around month! Hang in there and I look forward to seeing you again as soon as possible!
I Love You, Garth
Read more...
---